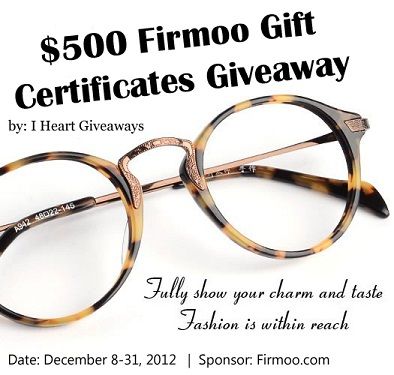 Offer your readers a chance to win one of the Firmoo Gift Certificates.
What are you waiting for? Sign up now FOR FREE!
Major Sponsor: Firmoo.com
Co-hosting spots are also available.
Check out.....
Featured Giveaway
Enjoy our giveaways? Just click and to vote for us on the fence. Thank You
Become a T-Mobile customer and earn up to $25 in T-Mobile gift cards!
Disclosure: I received no compensation for this publication. My opinions are my own and may differ from those of your own. NaturalHairLatina is not responsible for sponsor prize shipment

and is an affiliate of one or more of the products and banners you will see on this site. I am disclosing this in accordance with the Federal Trade Commissions 16 CFR, Part 255 Guides Concerning the Use of Endorsements and Testimonials In Advertising. NaturalHairLatina Disclosure. ©2012, copyright NaturalHairLatina