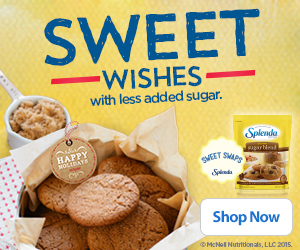 SPLENDA® Sugar Blend is a mix of SPLENDA® Brand Sweetener and sugar, so it provides only half the calories and carbohydrate of sugar. But since sugar is blended in, it delivers what you'd normally expect from baking with sugar - it rises, spreads, browns, and helps retain moistness, making it ideal for creating moist cakes and chewy cookies!
Specifically designed for use in baked goods.
Adds sweetness and moistness to baking.
Provides browning and volume to baked goods just like sugar.
Ideal for layer cakes, brownies, and muffins.
SPLENDA® Sugar Blend is available in a two-pound bag that contains the sweetness equivalency of four pounds of sugar.
Just a half-cup of SPLENDA® Sugar Blend replaces a full cup of sugar.
Check out the Splenda Blends and purchase at Walmart.
Latina Is The Social Savvy Maven @ NaturalHairLatina
An influence marketer who is socially aware, fair and honest with the ability to convey authenticity. My reputation as a forerunner in what's new, trendy, hot or not, is conveyed with authenticity.
In her spare time she's @ Fitnessbodymovement Bitlanders ,
Sverve
or
TSU