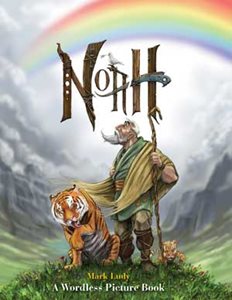 FlyBy Promotions were kind enough to send a copy of Noah to review with the kiddos. This book is an all time favorite bible story with no words. The detailed artwork is highly impressive and makes the adventure of Noah's Ark and animals even better.
About the book:
-Hardcover
-64 pages (no words)
A hundred years before the Great Flood, a man named Noah came home talking crazy. God wanted him to build the biggest ship the world had ever seen. The future of humanity depended on it. How would his wife respond? What would the neighbors think? Was it even feasible?
This lavish reimagining of one of the greatest stories of all time will fascinate children and adults alike. Nuanced and playful, yet meticulous in following the biblical narrative, Mark Ludy's world-class art digs deeper than the Sunday-school tale of cuddly animals, exploring noah's relationship with his family, the natural world, God - and a formidable engineering challenge.
Immerse yourself in this stunning wordless epic. Whatever your age, you'll never read this story in the same way again.
Disclosure: This post contains affiliate links provided by Postpresso and MomsAffilate